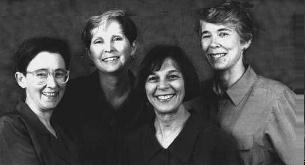 Four Stories High
left to right:
Mary Murphy
Carol Connolly
Barbara Palumbo
Jane Ainslie
Four Stories High: A Storytelling Quartet brings traditional and modern tales to adult and family audiences.
Four Stories High is:
Jane Ainslie, stormin@wizvax.net: An educator with an acting background, Jane Ainslie has told tales to audiences of all ages throughout New York State for the last ten years. She specializes in folktales, humorous, and personal stories, writing much of her own material. A featured performer at the Hubbard Hall Storytelling Festival, Jane has also appeared at family reunions, banquets, schools, parks, museums, colleges, and performing arts centers. She offers workshops in storytelling for adults and children.
Carol Connolly: For twenty-five years a teacher, musician, traveler, and storyteller, Carol Connolly has collected stories from around the world. At libraries, museums, festivals, nature centers, and on radio and television, she tells stories from many cultures and traditions. Carol also presents workshops on storytelling for children, parents, and teachers.
Barbara Palumbo: A former educator for the New York State juvenile justice system, Barbara Palumbo tells stories to adolescents and adults in schools and libraries, and for church and community audiences. Her repertoire ranges from sacred stories to earthy tales of vampires, ghosts, and goblins.
Mary Murphy, hello@albany.net: Mary Murphy is a writer and teller of stories. She has performed at the National Storytelling Festival, the Hawaii Storytelling Festival, the Clever Gretchen Folklore Conference, the Philadelphia Fringe Festival, Companions on the Sacred Journey, the Rockland County Storytelling Fesitval, the Dance Flurry in Saratoga Springs, the Riverway Festival and the Clearwater Festival. Her stories have been published in Give a Listen: Stories of Storytelling in School, edited by Ann M. Trousdale, Sue A. Woestehoff, and Marni Schwartz (NCTE, 1994), The Solstice Evergreen: The History, Folklore, and Origins of the Christmas Tree, 2nd ed., edited by Sheryl Ann Karas (Aslan, 1998), Women Celebrate: The Gift in Every Moment, compiled and edited by Elizabeth Welles (Peace Communications, 2004), The Artful Mind, and Sacred Journey. Her audio cassette is entitled murphy stew.
Four Stories High has performed at:
SPARC Fall Family Festival
Sharing the Fire Storytelling Conference
Albany First Night
Troy Victorian Stroll
Clever Gretchen Folklore Conference
The Norman Rockwell Musuem
The Williamsville Inn
The New York State Imagination Celebration
Caffe Lena
Fulton Street Gallery
Blue White Rainbow
Each member of the troupe has a special talent for making stories come alive...as seen on the attentive faces of the adults and children who gathered to listen. Congratulations on a terrific performance! - Anita Ramundo, SPARC
A real tour de force!... the perfect picture of what storytelling is all about. - Gail Ryan, owner of The Williamsville Inn
Four Stories High: A Storytelling Quartet
For information on performances and fees, write to us by e-mail, or phone (518) 786-1271